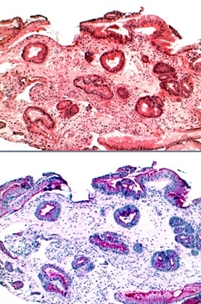 Gastrointestinal Pathology
SaraPath provides comprehensive evaluation of gastrointestinal specimens including esophagus, stomach, small intestine, large intestine and liver. All technical services are performed in-house in SaraPath's CAP accredited facilities, including frozen sections, rapid or routine tissue processing, and an extensive array of immunohistochemical and special staining services. Cytology processing is also available for detection and characterization of endoscopically-visible, ill-defined, or invisible gastrointestinal lesions, for identification of some microbiologic pathogens (primarily herpes simplex virus and Candida), and for detection of malignant cells arising within the hepatobiliary system.
Testing for Lynch syndrome also available - for ordering information, please click
here
.
In the interest of patient safety, all new malignant diagnoses are reported first by telephone, followed by a written report.
SaraPath's Advantages:
Independent, physician-owned company & laboratory operating since 1975
Experienced, board certified pathologists with sub-specialty expertise
Easy access to pathologists
Clear, concise reports using CAP & AJCC cancer staging guidelines
Results, generally provided within one business day
On-site CAP accredited laboratories & cutting-edge technologies
On-site billing operation experienced in complexities of insurance billing

Insurance contracts with all major providers, including BCBS, UnitedHealth, Aetna, Humana, Cigna

Options for uninsured patients
Professional, dedicated Client Service Center
In-house courier staff for timely & reliable pickup & delivery services
Pathology results are available within 24 hours on routine specimens. Multiple
connectivity
and ordering/reporting options are also available to increase efficiency and turn-around time. Please contact our
Client Services Center
for more information.